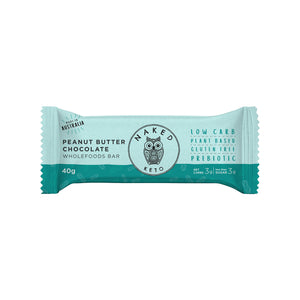 Peanut Butter Chocolate Keto Bar
Sale price Price $41.00 Regular price Unit price / per
Tax included.
Has there ever been a better pairing than chocolate and peanut butter? I think not

Low Carb


Low Sugar

Vegan Friendly

Prebiotic


Gluten Free

Date free
What's in it? (real food)
Peanuts, Peanut Butter, Almonds, Organic pea protein, Tahini, Chicory Root Fibre, Cacao Powder, Cacao Mass, Coconut oil, Coconut syrup, Erythritol, Chia Seeds, Himalayan MCT oil, Monk fruit
Shipping

FREE if you spend $100 or more! Grab 2 or more boxes and know you have snacks for the month sorted
Orders under $100 get $12 flat rate shipping (tons of amazing ingredients = heavy bars)
Keep them fresh
Peanut Butter Chocolate Keto Bars have a shelf life of 12 months. For optimum freshness, they should be stored in a cool, dry place.
Peanut butter chocolate keto
So yummy! My absolute fav!
My absolute fave!!!
Chewy. Chocolatey. Peanut buttery. The best!! Perfect afternoon treat
Awesome Bars!
These are definately my favourite, with the perfect blend of chocolate and peanut butter. They are chewy, flavoursome and a fantastic bar to have on the go.
The harderst thing is to only eat one, as they are so divine!